Radiation Facts
Microwave kills nutrition
Extracted from NEXUS Magazine, Volume 2, #25 (April-May '95).
Originally printed from the April 1994 edition of Acres, USA.
Back in May of 1989, after Tom Valentine first moved to St Paul, Minnesota, he heard on the car radio a short announcement that bolted him upright in the driver's seat. The announcement was sponsored by Young Families, the Minnesota Extension Service of the University of Minnesota: "Although microwaves heat food quickly, they are not recommended for heating a baby's bottle," the announcement said.
The bottle may seem cool to the touch, but the liquid inside may become extremely hot and could burn the baby's mouth and throat. Also, the buildup of steam in a closed container such as a baby's bottle could cause it to explode. "Heating the bottle in a microwave can cause slight changes in the milk. In infant formulas, there may be a loss of some vitamins. In expressed breast milk, some protective properties may be destroyed."
The report went on. "Warming a bottle by holding it under tap water or by setting it in a bowl of warm water, then testing it on your wrist before feeding, may take a few minutes longer, but it is much safer." Valentine asked himself: If an established institution like the University of Minnesota can warn about the loss of particular nutrient qualities in microwaved baby formula or mother's milk, then somebody must know something about microwaving they are not telling everybody.
A LAW SUIT
In early 1991, word leaked out about a lawsuit in Oklahoma. A woman named Norma Levitt had hip surgery, only to be killed by a simple blood transfusion when a nurse "warmed the blood for the transfusion in a microwave oven"! Logic suggests that if heating or cooking is all there is to it, then it doesn't matter what mode of heating technology one uses. However, it is quite apparent that there is more to 'heating' with microwaves than we've been led to believe.
Blood for transfusions is routinely warmed-but not in microwave ovens! In the case of Mrs Levitt, the microwaving altered the blood and it killed her. Does it not therefore follow that this form of heating does, indeed, do 'something different' to the substances being heated? Is it not prudent to determine what that 'something different' might do? A funny thing happened on the way to the bank with all that microwave oven revenue: nobody thought about the obvious. Only 'health nuts' who are constantly aware of the value of quality nutrition discerned a problem with the widespread 'denaturing' of our food. Enter Hans Hertel.
HANS HERTEL
In the tiny town of Wattenwil, near Basel in Switzerland, there lives a scientist who is alarmed at the lack of purity and naturalness in the many pursuits of modern mankind. He worked as a food scientist for several years with one of the many major Swiss food companies that do business on a global scale. A few years ago, he was fired from his job for questioning procedures in processing food because they denatured it. "The world needs our help,"
Hans Hertel told Tom Valentine as they shared a fine meal at a resort hotel in Todtmoss, Germany. "We, the scientists, carry the main responsibility for the present unacceptable conditions. It is therefore our job to correct the situation and bring the remedy to the world. I am striving to bring man and techniques back into harmony with nature. We can have wonderful technologies without violating nature." Hans is an intense man, driven by personal knowledge of violations of nature by corporate man and his state-supported monopolies in science, technology and education.
At the same time, as the two talked, his intensity shattered into a warm smile and he spoke of the way things could be if mankind's immense talent were to work with nature and not against her. Hans Hertel is the first scientist to conceive of and carry out a quality study on the effects of microwaved nutrients on the blood and physiology of human beings. This small but well-controlled study pointed the firm finger at a degenerative force of microwave ovens and the food produced in them.
The conclusion was clear: microwave cooking changed the nutrients so that changes took place in the participants' blood; these were not healthy changes but were changes that could cause deterioration in the human systems. Working with Bernard H. Blanc of the Swiss Federal Institute of Technology and the University Institute for Biochemistry, Hertel not only conceived of the study and carried it out, he was one of eight participants. "To control as many variables as possible, we selected eight individuals who were strict macrobiotic diet participants from the Macrobiotic Institute at Kientel, Switzerland," Hertel explained. "We were all housed in the same hotel environment for eight weeks. There was no smoking, no alcohol and no sex." One can readily see that this protocol makes sense.
After all, how could you tell about subtle changes in a human's blood from eating microwaved food if smoking, booze, junk food, pollution, pesticides, hormones, antibiotics and everything else in the common environment were also present? "We had one American, one Canadian and six Europeans in the group. I was the oldest at 64 years, the others were in their 20s and 30s," Hertel added.
Valentine published the results of this study in Search for Health in the Spring of 1992. But the follow-up information is available only in a later edition, and also in Acres, USA. In intervals of two to five days, the volunteers in the study received one of the food variants on an empty stomach. The food variants were:
raw milk from a biofarm
the same milk conventionally cooked
pasteurized milk from Intermilk Berne
the same raw milk cooked in a microwave oven
raw vegetables from an organic farm
the same vegetables cooked conventionally
the same vegetables frozen and defrosted in the microwave oven
and the same vegetables cooked in the microwave oven
The overall experiment had some of the earmarks of the Pottenger cat studies, except that now human beings were test objects, the experiment's time-frame was shorter, and a new heat form was tested. Once the volunteers were isolated at the resort hotel, the test began. Blood samples were taken from every volunteer immediately before eating.
Then blood samples were taken at defined intervals after eating from the above-numbered milk or vegetable preparations. Significant changes were discovered in the blood of the volunteers who consumed foods cooked in the microwave oven. These changes included a decrease in all hemoglobin values and cholesterol values, especially the HDL (good cholesterol) and LDL (bad cholesterol) values and ratio.
Lymphocytes (white blood cells) showed a more distinct short-term decrease following the intake of microwaved food than after the intake of all the other variants. Each of these indicators point in a direction away from robust health and toward degeneration. Additionally, there was a highly significant association between the amount of microwave energy in the test foods and the luminous power of luminescent bacteria exposed to serum from test persons who ate that food.
This led Hertel to the conclusion that such technically derived energies may, indeed, be passed along to man inductively via consumption of microwaved food. "This process is based on physical principles and has already been confirmed in the literature," Hertel explained. The apparent additional energy exhibited by the luminescent bacteria was merely extra confirmation.
"There is extensive scientific literature concerning the hazardous effects of direct microwave radiation on living systems," Hertel continued. "It is astonishing, therefore, to realise how little effort has been made to replace this detrimental technique of microwaves with technology more in accordance with nature. "Technically produced microwaves are based on the principle of alternating current.
Atoms, molecules and cells hit by this hard electromagnetic radiation are forced to reverse polarity 1 to 100 billion times a second. There are no atoms, molecules or cells of any organic system able to withstand such a violent, destructive power for any extended period of time, not even in the low energy range of milliwatts."Of all the natural substances-which are polar-the oxygen of water molecules reacts most sensitively. This is how microwave cooking heat is generated-friction from this violence in water molecules. Structures of molecules are torn apart, molecules are forcefully deformed (called structural isomerism) and thus become impaired in quality.
HEATING FOOD
"This is contrary to conventional heating of food, in which heat transfers convectionally from without to within. Cooking by microwaves begins within the cells and molecules where water is present and where the energy is transformed into frictional heat." The question naturally arises: What about microwaves from the sun? Aren't they harmful? Hertel responded: "The microwaves from the Sun are based on principles of pulsed direct current.
These rays create no frictional heat in organic substance." In addition to violent frictional heat effects (called thermic effects), there are also athermic effects which have hardly ever been taken into account, Hertel added. "These athermic effects are not presently measurable, but they can also deform the structures of molecules and have qualitative consequences.
For example, the weakening of cell membranes by microwaves is used in the field of gene altering technology. Because of the force involved, the cells are actually broken, thereby neutralizing the electrical potentials-the very life of the cells-between the outer and inner sides of the cell membranes. Impaired cells become easy prey for viruses, fungi and other micro-organisms.
The natural repair mechanisms are suppressed, and cells are forced to adapt to a state of energy emergency: they switch from aerobic to anaerobic respiration. Instead of water and carbon dioxide, hydrogen peroxide and carbon monoxide are produced." It has long been pointed out in the literature that any reversal of healthy cell processes may occur because of a number of reasons, and our cells then revert from a "robust oxidation" to an unhealthy "fermentation".
The same violent friction and athermic deformations that can occur in our bodies when we are subjected to radar or microwaves, happens to the molecules in the food cooked in a microwave oven. In fact, when anyone microwaves food, the oven exerts a power input of about 1,000 watts or more. This radiation results in destruction and deformation of molecules of food, and in the formation of new compounds (called radiolytic compounds) unknown to man and nature.
Today's established science and technology argues forcefully that microwaved food and irradiated foods do not have any significantly higher "radiolytic compounds" than do broiled, baked or other conventionally cooked foods-but microwaving does produce more of these critters. Curiously, neither established science nor our ever-protective government has conducted tests-on the blood of the eaters-of the effects of eating various kinds of cooked foods. Hertel and his group did test it, and the indication is clear that something is amiss and that larger studies should be funded.
The apparently toxic effects of microwave cooking is another in a long list of unnatural additives in our daily diets. However, the establishment has not taken kindly to this work. "The first drawing of blood samples took place on an empty stomach at 7.45 each morning," Hertel explained. "The second drawing of blood took place 15 minutes after the food intake. The third drawing was two hours later." >From each sample, 50 ml of blood was used for the chemistry and five millimetres for the hematology and the luminescence. The hematological examinations took place immediately after drawing the samples.
Erythrocytes, hemoglobin, mean hemoglobin concentration, mean hemoglobin content, leukocytes and lymphocytes were measured. The chemical analysis consisted of iron, total cholesterol, HDL cholesterol and LDL cholesterol. The results of erythrocyte, hemoglobin, hematocrit and leukocyte determinations were at the "lower limits of normal" in those tested following the eating of the microwaved samples. "These results show anaemic tendencies. The situation became even more pronounced during the second month of the study," Hertel added.
"And with those decreasing values, there was a corresponding increase of cholesterol values." Hertel admits that stress factors, from getting punctured for the blood samples so often each day, for example, cannot be ruled out, but the established baseline for each individual became the "zero values" marker, and only changes from the zero values were statistically determined. With only one round of test substances completed, the different effects between conventionally prepared food and microwaved food were marginal-although noticed as definite "tendencies".
As the test continued, the differences in the blood markers became "statistically significant". The changes are generally considered to be signs of stress on the body. For example, erythrocytes tended to increase after eating vegetables from the microwave oven. Haemoglobin and both of the mean concentration and content haemoglobin markers also tended to decrease significantly after eating the microwaved substances.
LEUKOCYTOSIS
"Leukocytosis (an increase in white blood cells)," Hertel explained, "which cannot be accounted for by normal daily deviations such as following the intake of food, is taken seriously by haematologists. Leukocyte response is especially sensitive to stress. They are often signs of pathogenic effects on the living system, such as poisoning and cell damage. The increase of leukocytes with the microwaved foods was more pronounced than with all the other variants.
It appears that these marked increases were caused entirely by ingesting the microwaved substances." The cholesterol markers were very interesting, Hertel stressed: "Common scientific belief states that cholesterol values usually alter slowly over longer periods of time. In this study, the markers increased rapidly after the consumption of the microwaved vegetables. However, with milk, the cholesterol values remained the same and even decreased with the raw milk significantly."
Hertel believes his study tends to confirm newer scientific data that suggest cholesterol may rapidly increase in the blood secondary to acute stress. "Also," he added, "blood cholesterol levels are less influenced by cholesterol content of food than by stress factors. Such stress-causing factors can apparently consist of foods which contain virtually no cholesterol-the microwaved vegetables."
It is plain to see that this individually financed and conducted study has enough meat in it to make anyone with a modicum of common sense sit up and take notice. Food from the microwave oven caused abnormal changes, representing stress, to occur in the blood of all the test individuals. Biological individuality, a key variable that makes a mockery of many allegedly scientific studies, was well accounted for by the established baselines. So, how has the brilliant world of modern technology, medicine and 'protect the public' government reacted to this impressive effort?
A GAG ORDER
As soon as Hertel and Blanc announced their results, the hammer of authority slammed down on them. A powerful trade organization, the Swiss Association of Dealers for Electroapparatuses for Households and Industry, known simply as FEA, struck swiftly. They forced the President of the Court of Seftigen, Kanton Bern, to issue a 'gag order' against Hertel and Blanc.
The attack was so ferocious that Blanc quickly recanted his support-but it was too late. He had already put into writing his views on the validity of the studies where he concurred with the opinion that microwaved food caused the blood abnormalities. Hertel stood his ground, and today is steadfastly demanding his rights to a trial. Preliminary hearings on the matter have been appealed to higher courts, and it's quite obvious the powers that be do not want a 'show trial' to erupt on this issue. In March 1993, the court handed down this decision based upon the complaint of the FEA:"Consideration.
1. Request from the plaintiff (FEA) to prohibit the defendant (Dr Ing. Hans Hertel) from declaring that food prepared in the microwave oven shall be dangerous to health and lead to changes in the blood of consumers, giving reference to pathologic troubles as also indicative for the beginning of a cancerous process. The defendant shall be prohibited from repeating such a statement in publications and in public talks by punishment laid down in the law.
2. The jurisdiction of the judge is given according to law.
3. The active legitimacy of the plaintiff is given according to the law.
4. The passive legitimacy of the defendant is given by the fact that he is the author of the polemic [published study] in question, especially since the present new and revised law allows to exclude the necessity of a competitive situation, therefore delinquents may also be persons who are not co-competitors, but may damage the competing position of others by mere declarations.[Apparently, Swiss corporations have lobbied in a law that nails "delinquents" who disparage products and might do damage to commerce by such remarks. So far, the US Constitution still preserves freedom of the press.]
5. Considering the relevant situation it is referred to three publications: the public renunciation [sic] of the so-called co-author Professor Bernard Blanc, the expertise of Professor Teuber [expert witness from the FEA] about the above-mentioned publication, the opinion of the public health authorities with regard to the present stage of research with microwave ovens as well as to repeated statements from the side of the defendant about the danger of such ovens.
6. It is not considered of importance whether or not the polemic of the defendant meets the approval of the public, because all that is necessary is that a possibility exists that such a statement could find approval with people not being experts themselves. Also, advertising involving fear is not allowed and is always disqualified by the law. The necessity for a fast interference is in no case more advised than in the processes of competition. Basically, the defendant has the right to defend himself against such accusations. This right, however, in cases of pressing danger with regard to impairing the rights of the plaintiff when this is requested.
Conclusion
On grounds of this pending request of the plaintiff, the court arrives at the conclusion that because of special presuppositions as in this case, a definite disadvantage for the plaintiff does exist, which may not easily be repaired, and therefore must be considered to be of immediate danger. The case thus warrants the request of the plaintiff to be justified, even without hearing the defendant.
Also, because it is not known when the defendant will bring further statements into the public. The judge is also of the opinion that because the publications are made up to appear as scientific, and therefore especially reliable-looking, they may cause additional bad disadvantages. It must be added that there does obviously not exist a just reason for this publication because there is no public interest for pseudo-scientific unproved declarations. Finally, these ordered measures do not prove to be disproportionate.
he defendant is prohibited, under punishment of up to F5,000, or up to one year in prison, to declare that food prepared in microwave ovens is dangerous to health and leads to pathologic troubles as also indicative for the beginning of a cancerous process. The plaintiff pays the costs. (Signed) President of the Court of Seftigen Kraemer." If you cannot imagine this kind of decision coming from a court in the United States, you have not been paying attention to the advances of administrative law.
Hertel defied the court and has loudly demanded a fair hearing on the truth of his claims. The court has continued to delay, dodge, appeal and avoid any media-catching confrontation. As of this writing, Hans is still waiting for a hearing with media coverage-and he's still talking and publishing his findings. "They have not been able to intimidate me into silence, and I will not accept their conditions," Hertel declared.
"I have appeared at large seminars in Germany, and the study results have been well-received. Also, I think the authorities are aware that scientists at Ciba-Geigy [the world's largest pharmaceutical company, headquartered in Switzerland] have vowed to support me in court." As those powerful special interests in Switzerland who desire to sell microwave ovens by the millions continued to suppress open debate on this vital issue for modern civilisation, new microwave developments blossomed in the United States.
INFANT DANGER
In the journal Pediatrics (vol. 89, no. 4, April 1992), there appeared an article titled, "Effects of Microwave Radiation on Anti-infective Factors in Human Milk". Richard Quan, M.D. from Dallas, Texas, was the lead name of the study team. John A. Kerner, M.D., from Stanford University, was also on the research team, and he was quoted in a summary article on the research that appeared in the 25 April 1992 issue of Science News.
To get the full flavour of what may lie ahead for microwaving, here is that summary article: "Women who work outside the home can express and store breast milk for feedings when they are away. But parents and caregivers should be careful how they warm this milk. A new study shows that microwaving human milk-even at a low setting-can destroy some of its important disease-fighting capabilities.
"Breast milk can be refrigerated safely for a few days or frozen for up to a month; however, studies have shown that heating the milk well above body temperature-37°C-can break down not only its antibodies to infectious agents, but also its lysozymes or bacteria-digesting enzymes.
So, when paediatrician John A. Kerner, Jr, witnessed neonatal nurses routinely thawing or reheating breast milk with the microwave oven in their lounge, he became concerned. "In the April 1992 issue of Pediatrics (Part I), he and his Stanford University co-workers reported finding that unheated breast milk that was microwaved lost lysozyme activity, antibodies and fostered the growth of more potentially pathogenic bacteria.
Milk heated at a high setting (72°C to 98°C) lost 96 per cent of its immunoglobulin-A antibodies, agents that fend off invading microbes. "What really surprised him, Kerner said, was finding some loss of anti-infective properties in the milk microwaved at a low setting-and to a mean of just 33.5°C.
Adverse changes at such low temperatures suggest 'microwaving itself may in fact cause some injury to the milk above and beyond the heating'. "But Randall M. Goldblum of the University of Texas Medical Branch in Galveston disagrees, saying: 'I don't see any compelling evidence that the microwaves did any harm.
It was the heating.' Lysozyme and antibody degradation in the coolest samples may simply reflect the development of small hot spots-potentially 60&degree;C or above-during microwaving, noted Madeleine Sigman-Grant of Pennsylvania State University, University Park. And that's to be expected, she said, because microwave heating is inherently uneven-and quite unpredictable when volumes less than four millilitres are involved, as was the case in the Kerner's study.
"Goldblum considers use of a microwave to thaw milk an especially bad idea, since it is likely to boil some of the milk before all has even liquefied. Stanford University Medical Center no longer microwaves breast milk, Kerner notes. And that's appropriate, Sigman-Grant believes, because of the small volumes of milk that hospitals typically serve newborns-especially premature infants."
CHASING A STORY
Journalist Tom Valentine, after chasing this story, found it interesting that 'scientists' have so many 'beliefs' to express rather than prove fact. Yet facts eventually snuff out credential-based conjecture. Researcher Quan, in a phone interview, said that he believed the results of research so far warranted further detailed study of the effects of microwave cooking on nutrients.
The summary sentence in an abstract of the research paper is very clear: "Microwaving appears to be contra-indicated at high temperatures, and questions regarding its safety exist even at low temperatures." The final statement of the study conclusion reads:"This preliminary study suggests that microwaving human milk could be detrimental. Further studies are needed to determine whether and how microwaving could safely be done."
Unfortunately, further studies are not scheduled at this time. If there are so many indications that the effects of microwaves on foods can degrade the foods far above the known breakdowns of standard cooking, is it not reasonable to conduct exhaustive studies on living, breathing human beings to determine if it's possible that eating microwaved foods continuously, as many people do, can be significantly detrimental to individual health? If you wanted to introduce a herbal supplement into the American mainstream and make any health claims for it, you would be subjected to exhaustive documentation and costly research.
Yet the microwave-oven industry had only to prove that the dangerous microwaves could, indeed, be contained within the oven and not escape into the surrounding area where the radiation could do damage to people. The industry must admit that some microwaves escape even in the best-made ovens. So far, not one thought has been given by the industry to the possibility that the nutrients could be so altered as to be deleterious to health.
Well, this makes sense in a land that encourages farmers to poison crops and soils with massive amounts of synthesised chemicals, and encourages food processors to use additives that enhance shelf-life of foods regardless of the potential for degrading the health of the consumer. How many hundreds of pounds of microwaved food per capita is consumed in America each year? Are we going to continue to take it from established authority, without question, on the premise that they know best?
---

Fukushima is not only the greatest environmental disaster of all time, it  will end up being a holocaust!
Every single day, 300 tons of radioactive water from Fukushima enters the Pacific Ocean. The radioactive material that is being released will outlive all of us by a very wide margin, and it is constantly building up in the food chain. Nobody knows for sure how many people will eventually develop cancer and other health problems as a result of the Fukushima nuclear disaster, but some experts are not afraid to use the word "billions".
It has been well over two years since the original disaster, and now they are telling us that it could take up to 40 more years to clean it up. It is a nightmare of unimaginable proportions, and there is nowhere in the northern hemisphere that you will be able to hide from it. The following are 11 facts about the ongoing Fukushima nuclear holocaust that are almost too horrifying to believe…
#1 It is estimated that there are 1,331 used nuclear fuel rods that need to be removed from Fukushima. Because of all of the damage that has taken place, computer-guided removal of the rods will not be possible. Manual removal is much riskier, and it is absolutely essential that the removal of each of the 1,331 rods goes perfectly because a single mistake could potentially lead to a nuclear chain reaction.
#2 According to Reuters, the combined amount of cesium-137 contained in those nuclear fuel rods is 14,000 times greater than what was released when the U.S. dropped an atomic bomb on Hiroshima at the end of World War II. Other estimates put this number far higher.
#3 Officials in Japan admit that 300 tons of radioactive water from Fukushima is entering the Pacific Ocean every 24 hours.
#4 According to a professor at Tokyo University, 3 gigabecquerels of cesium-137 are flowing into the port at Fukushima Daiichi every single day… Yoichiro Tateiwa, NHK reporter: [Professor Jota] Kanda argues government statistics don't add up. He says a daily leakage of 300 tons doesn't explain the current levels of radiation in the water. Jota Kanda, Tokyo University professor: According to my research there are now 3 gigabecquerels [3 billion becquerels] of cesium-137 flowing into the port at Fukushima Daiichi every day. But for the 300 tons of groundwater to contain this much cesium-137, one liter of groundwater has to contain 10,000 becquerels of the radioactive isotope. NHK: Kanda's research and monitoring by Tepco puts the amount of cesium-137 in the groundwater around the plant at several hundred becquerels per liter at most. He's concluded that radioactive isotope is finding another way to get into the ocean. He's calling on the government and Tepco to identify contamination routes other than groundwater.
#5 According to Tepco, a total of somewhere between 20 trillion and 40 trillion becquerels of radioactive tritium have gotten into the Pacific Ocean since the Fukushima disaster first began.
#6 Something is causing fish along the west coast of Canada to bleed from their gills, bellies and eyeballs. Could Fukushima be responsible?
#7 150 former sailors and Marines say that they now have radiation sickness as a result of serving on U.S. Navy ships near Fukushima and they are suing for damages.
#8 The Iodine-131, Cesium-137 and Strontium-90 that are constantly coming from Fukushima are going to affect the health of those living the the northern hemisphere for a very, very long time. Just check out what Harvey Wasserman had to say recently… Iodine-131, for example, can be ingested into the thyroid, where it emits beta particles (electrons) that damage tissue. A plague of damaged thyroids has already been reported among as many as 40 percent of the children in the Fukushima area. That percentage can only go higher. In developing youngsters, it can stunt both physical and mental growth. Among adults it causes a very wide range of ancillary ailments, including cancer. Cesium-137 from Fukushima has been found in fish caught as far away as California. It spreads throughout the body, but tends to accumulate in the muscles. Strontium-90's half-life is around 29 years. It mimics calcium and goes to our bones.
True facts about Ocean Radiation and the Fukushima Disaster
On March 11th, 2011 the Tōhoku earthquake and resulting tsunami wreaked havoc on Japan. It also resulted in the largest nuclear disaster since Chernobyl when the tsunami damaged the Fukushima Daiichi Nuclear Power Plant. Radioactive particles were released into the atmosphere and ocean, contaminating groundwater, soil and seawater which effectively closed local Japanese fisheries.
Rather unfortunately, it has also led to some wild speculation on the widespread dangers of Fukushima radiation on the internet. Posts with titles like "Holy Fukushima – Radiation From Japan Is Already Killing North Americans" and "28 Signs That The West Coast Is Being Absolutely Fried With Nuclear Radiation From Fukushima" (which Southern Fried Science has already throughly debunked ) keep popping up on my facebook feed from well-meaning friends.
I'm here to tell you that these posts are just plain garbage. While there are terrible things that happened around the Fukushima Power Plant in Japan; Alaska, Hawaii and the West Coast aren't in any danger.  These posts were meant to scare people (and possibly written by terrified authors). They did just that, but there is a severe lack of facts in these posts. Which is why I am here to give you the facts, and nothing but the facts.
WHAT WAS RELEASED INTO THE OCEAN AT FUKUSHIMA?
The radioactive rods in the Fukushima power plant are usually cooled by seawater [CORRECTION: they are usually cooled by freshwater. As a last ditch emergency effort at Fukushima seawater was used as a coolant.]. The double whammy of an earthquake and a tsunami pretty much released a s**tstorm of badness: the power went out, meltdown started and eventually the radioactive cooling seawater started leaking (and was also intentionally released) into the ocean. Radioactive isotopes were also released into the air and were absorbed by the ocean when they rained down upon it. These two pathways introduced mostly Iodine-131, Cesium-137, and Cesium-134, but also a sprinkling of Tellurium, Uranium and Strontium to the area surrounding the power plant.
There aren't great estimates of how much of each of these isotopes were released into the ocean since TEPCO, the company that owns the power plant hasn't exactly been forthcoming with information, but the current estimates are around 538,100 terabecquerels (TBq) which is above Three-Mile Island levels, but below Chernobyl levels. And as it turns out, they recently found contaminated groundwater has also started leaking into the sea. TEPCO, the gift that keeps on giving.
WHAT'S A BEQUEREL? WHAT'S A SIEVERT?
Units of Radiation are confusing. When you start reading the news/literature/blogs, there are what seems like a billion different units to explain radiation. But fear not, I've listed them below and what they mean (SI units first).
Becquerel[Bq] or Curie[Ci]: radiation emitted from a radioactive material  (1 Ci = 3.7 × 1010 Bq)
Gray [Gy] or Rad[rad]: radiation absorbed by another material (1Gy = 100 rad)
Sieverts[Sv]* or "roentgen equivalent in man"[rem]: how badly radiation will damage biological tissue (1 Sv = 100 rem)
You can convert from Grays and Rads to Rem and Sieverts, but you have to know what kind of radiation it is. For example alpha radiation from naturally occurring Polonium-210 is more damaging to biological tissues than gamma radiation from Cesium-137. Even if you absorbed the same number of Grays from Cesium or Polonium, you would still effectively receive more damaging radiation from Polonium because the number of Sieverts is higher for Polonium than Cesium. And kids, Sieverts and Seavers  are both dangerous to your health but please don't confuse them.
WHAT'S CESIUM-137?
Cesium-137 is product of nuclear fission. Before us humans, there was no Cesium-137 on earth. But then we started blowing stuff up with nuclear bombs and VOILA!, there are now detectable, but safe, levels of Cesium-137 in all the world oceans.
WHAT DO THE MAPS OF FUKUSHIMA RADIATION IN THE PACIFIC REALLY TELL US?
There are a bunch of maps being thrown around on the internet as evidence that we are all going to die from Fukushima radiation. I'm going to dissect them here. Apologies in advance for dose of snark in this section because some of these claims are just god awful. Spoiler: radiation probably has reached the West Coast but it's not dangerous.
MAP OF TERROR #1: The Rays of Radioactive Death!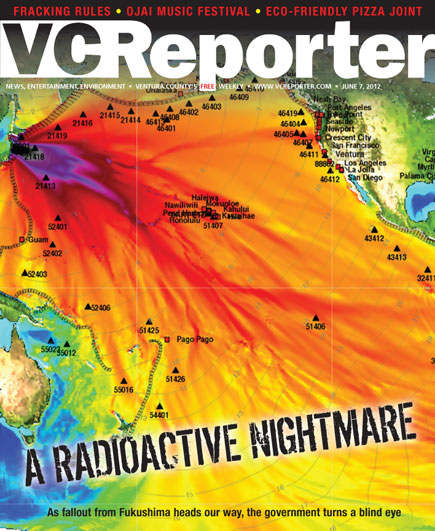 This is not a map of Fukushima Radiation spreading across the Pacific. This is a map of the estimated maximum wave heights of the Japanese Tohuku Tsunami by modelers at NOAA. In fact, tsunamis don't even transport particles horizontally in the deep ocean. So there is no way a Tsunami could even spread radiation (except maybe locally at scales of several miles as the wave breaks onshore). Dear VC reporter, I regret to inform you this cover image could be the poster child for the importance of journalistic fact-checking for years to come.
MAP OF TERROR #2: EHRMAGHAD radioactive SPAGHATTA NADLES attack Hawaii!
I mean I guess this is a bit better. At least this map used an ocean model that actually predicts where radioactive particles will be pushed around by surface ocean currents. But it still gets a BIG FAT FAIL. The engineering company that put this image/piece of crap out there couldn't even be bothered to put a legend on the map. Their disclaimer says "THIS IS NOT A REPRESENTATION OF THE RADIOACTIVE PLUME CONCENTRATION." Then what do the colors mean?
MAP OF TERROR #3: THE BLOB! 
It's true, oceanographic models have shown that radiation from Fukushima has probably already hit Aleutians and Hawaiian Island chain, and should reach the California Coast by Fall 2014 [Behrens et al. 2012]. The map above is showing the spread of Cesium-137 from the Fukushima reactor would look like right now, I mean radiation is apparently EVERYWHERE! But what is missing from most of the discussion of these maps is what  the colors ACTUALLY mean.
We shall now seek guidance from the little box in the upper right hand corner of the map called the legend**.  The colors show how much less radioactive the the decrease in the radioactive concentrations of Cesium-137 isotopes have become since being emitted from Fukushima. For example, the red areas indicate the Fukushima Cesium-137 is now more than 10,000 times less radioactive concentrated than when released. The California Coast, more than a million times less. The punchline is that overall concentrations of radioactive isotopes and therefore radioactivity in the Pacific will increase from Pre-Fukushima levels, but it will be way less than what was seen in coastal Japan and definitely not enough to be harmful elsewhere (we'll get to more of that later).
** As Eve Rickert has thoughtfully pointed out, my description of the image is a little confusing. I've added corrections in blue to clarify.
HOW MUCH RADIATION WILL REACH THE WEST COAST?
Practically, what does ten thousand or a million times less radiation mean? It means that these models estimate the West Coast and the Aleutians will see radiation levels anywhere from 1-20 Bq/m3,while Hawaiian Islands could see up to 30 Bq/m3 [Behrens et al. 2012, Nakano et al. 2012,  Rossi et al. 2013 ].
I could write a small novel explaining why the numbers differ between the models. For those that love the details, here's a laundry list of those differences: the amount of radiation initially injected into the ocean, the length of time it took to inject the radiation (slowly seeping or one big dump), the physics embedded in the model, the background ocean state, the number of 20-count shrimp per square mile (Just kidding!), atmospheric forcing, inter-annual and multi-decadal variability and even whether atmospheric deposition was incorporated into the model.
Like I said before, the West Coast will probably not see more than 20 Bq/m3 of radiation. Compare these values to the map of background radiation of Cesium-137 in the ocean before Fukushima (from 1990), it's only 4 Bq/m3 in the Pacific. Radiation will increase in the Pacific, but it's at most 10 times higher than previous levels, not thousands. Although looking at this map I would probably stop eating Baltic Herring fish oil pills and Black Sea Caviar (that radiation is from Chernobyl) before ending the consumption of  fish from the Pacific Ocean.
WILL THE RADIATION REACHING THE WEST COAST BE DANGEROUS?
No it will not be dangerous. Even within 300 km of Fukushima, the additional radiation that was introduced by the Cesium-137 fallout is still well below the background radiation levels from naturally occurring radioisotopes. By the time those radioactive atoms make their way to the West Coast it will be even more diluted and therefore not dangerous at all.
It's not even dangerous to swim off the coast of Fukushima. Buessler et al. figured out how much radiation damage you would get if you doggie paddled about Fukushima (Yes, science has given us radioactive models of human swimmers). It was less than 0.03% of the daily radiation an average Japanese resident receives. Tiny! Hell, the radiation was so small even immediately after the accident scientists did not wear any special equipment to handle the seawater samples (but they did wear detectors just in case). If you want danger, you're better off licking the dial on an old-school glow in the dark watch.
CAN I EAT FISH FROM THE PACIFIC?
For the most part the answer is YES. Some fisheries in Japan are still closed because of radioactive contamination. Bottom fish are especially prone to contamination because the fallout collects on the seafloor where they live. Contaminated fish shouldn't be making it to your grocery store, but I can't guarantee that so if you are worried just eat fish from somewhere other than Japan.
Fish from the rest of the Pacific are safe. To say it mildly, most fish are kinda lazy. They really don't travel that far so when you catch a Mahi Mahi off the coast of Hawaii its only going to be as contaminated as the water there, which isn't very much.Hyperactive fish, such as tuna may be more radioactive than local lazy fish because they migrate so far. As Miriam pointed out in this post, there is a detectable increase of radiation in tuna because they were at one point closer to Fukushima, but the levels are not hazardous.
To alleviate fears that you may be glowing due to ingestion too many visits to your local sushi joint, Fischer et al. figured out exactly how much damaging radiation you would receive from eating a tower of tuna rolls. Seriously. Science is just that awesome. Supermarket tuna hunters would receive 0.9 μSv of radiation, while the outdoors subsistence tuna hunter would receive 4.7 μSv. These values are about the same or a little less than the amount a person receives from natural sources.
To put 0.9 μSv of radiation in perspective check out this awesome graph of radiation by xkcd. You'll get the same amount of radiation by eating 9 bananas. Monkeys might be doomed, but you are not.
I EAT PACIFIC FISH AND SO CAN YOU!
I hope this list of facts has answered most of your questions and convinced you the Pacific and its inhabitants will not be fried by radiation from Fukushima. I certainly feel safe eating sustainable seafood from the Pacific and so should you. If you are still unsure, please feel free to ask questions in the comments section below.
UPDATE #1: CONTRIBUTIONS FROM GROUNDWATER LEAKS
There's been a lot of discussion in the comments about the contribution from the groundwater leaks. I did some homework and here's what I came up with. (Also thanks to everyone for the interesting discussions in the comments!)
The ground water leaks are in fact problematic, but what has been released into the ocean is MUCH less than the initial release (although I admit the groundwater itself has extremely high radiation levels).  The estimates from Jota Kanda are that 0.3 TBq per month (1012 Bq) of contaminated groundwater is leaking into the ocean, which has added another 9.6 TBq of radiation into the sea at most.  The initial releases were about 16.2 PBq (1015 Bq), about 1500 times more radiation. With this in mind, the additional radioactivity leak from ground water isn't a relatively large addition to the ocean.
The models by Behrens and Rossi used initial source functions of 10 PBq and 22 PBq, which is on par with the most recent estimates.  Since their models used a much higher source function, that says to me that this relatively smaller input from groundwater still won't raise the radioactivity to dangerous levels on the West Coast, Alaska and Hawaii.  Recent observations around Hawaii by Kamenik et al. also suggest that the models may have even overestimated the amount of radiation that hit Hawaii, which is good news.
But there are caveats to this information as well. The leaking groundwater contains strontium and tritium which are more problematic than Cesium-137. But it sounds like strontium accumulates in bones and is only a problem if you eat small fish with the bones in, like sardines (and it will only affect sardines caught near Japan since they don't travel far). I suspect there might be some precedent for understanding the dangers of tritium in seawater from the 20th century nuclear testing in atolls, but I really don't know. There is also 95 TBq of radioactive cesium is in the sediment around Fukushima, which is still super problematic for bottom dwelling fish and therefore local Japanese Fisheries. Lastly, another source is terrestrial runoff. These numbers haven't been quantified but they are probably minor because they contain a fraction of the total deposition from atmospheric fallout, which itself was a fraction of what was released into the ocean.
So even with the new groundwater leaks, the available evidence still tells me I can eat fish from the West Coast, Hawaii, and Alaska.
http://www.nature.com/news/ocean-still-suffering-from-fukushima-fallout-1.11823
http://www.biogeosciences.net/10/6045/2013/bg-10-6045-2013.pdf
http://newswatch.nationalgeographic.com/2013/09/11/fukushima-fallout-not-affecting-u-s-caught-fish/
UPDATE #2: ANOTHER GREAT RESOURCE FOR LEARNING ABOUT THE SCIENCE OF FUKUSHIMA RADIATION
For more in depth articles about radiation from Fukushima in the ocean you should definitely check out some of Marine Chemist's Posts at Daily Kos. Written by Jay T. Cullen, a Marine Chemist at the University of Victoria, the posts walk you through the most current research on Fukushima Radiation from a variety of sources. I especially recommend his most recent post on Update on Fukushima Radionuclides in the North Pacific and Off the West Coast of North America, were he discusses the recent detection of Fukushima radiation off the coast of Canada. The most recent observations from June 2013 shows the spread of Cesium-137 was on par with the predictions by Rossi et al., but the concentrations are safe and lower than predicted.
[DISCLAIMER: The creators of the NOAA tsunami map work in my building. I secretly fangirl squeal when I walk past their offices. I recently had coffee with Joke F. Lübbecke, who also works in my building. It was caffeinated.]
*Confusingly, oceanographers also co-opted the acronym Sv for Sverdrups their unit for volume transport. 1 Sverdrup = 1 Sv = one million cubic metres per second = 400 Olympic swimming pools just passed your house in one second.
SOURCES:
Behrens, Erik, et al. "Model simulations on the long-term dispersal of 137Cs released into the Pacific Ocean off Fukushima." Environmental Research Letters 7.3 (2012): 034004.
Buesseler, Ken O., et al. "Fukushima-derived radionuclides in the ocean and biota off Japan." Proceedings of the National Academy of Sciences 109.16 (2012): 5984-5988.
Fisher, Nicholas S., et al. "Evaluation of radiation doses and associated risk from the Fukushima nuclear accident to marine biota and human consumers of seafood." Proceedings of the National Academy of Sciences (2013).
Nakano, Masanao, and Pavel P. Povinec. "Long-term simulations of the 137 Cs dispersion from the Fukushima accident in the world ocean." Journal of environmental radioactivity 111 (2012): 109-115.
Rossi, Vincent, et al. "Multi-decadal projections of surface and interior pathways of the Fukushima Cesium-137 radioactive plume." Deep Sea Research Part I: Oceanographic Research Papers (2013).
Woods Hole Oceanographic Institution FAQ: Radiation from Fukushima
Explained: rad, rem, sieverts, becquerelsl. A guide to terminology about radiation exposure